I have enjoyed my fishing this year. Both Lake and River are yielding good quality fish. On the river this is the time of the Brown Trout and they are always larger than most Rainbows with some anglers targeting them rather than Rainbows in the lower river and at night. Rainbow trout caught have been around 3lb, great condition great shape and great colour.
Smelt numbers would seem to be improved and the size of the smelt larger than in recent years, Trout caught have smelt in their digestive system and smelt spilling from the mouth when brought into the boat. I have even had the experience of seeing a smelt caught on a fly.
In The Scientific Art of Angling, David Hill, states that the size of the food is a factor in the size of the predator trout. Taupo smelt this summer approach the size of Tarawera smelt.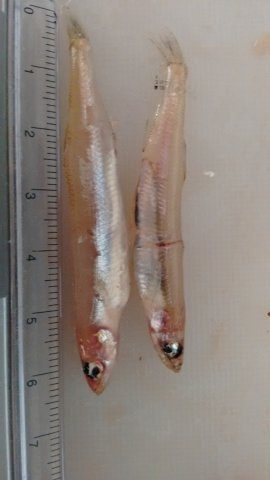 It makes this season look good.
One of the pleasures for me this summer has been watching my grandchildren and their friends catching fish. It is all excitement and fascination for these kids and is excellent to introduce the young to fishing.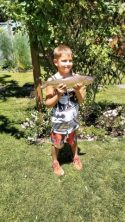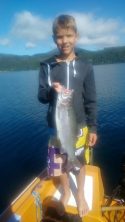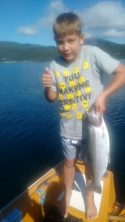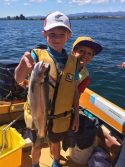 I attend the Lakes and Waterways Action Group (LWAG) monthly meetings in Taupo on occasions. I will attend this months meeting to hear Professor David Hamilton of Waikato University.
LAKES & WATERWAYS ACTION GROUP
THURSDAY, 16 MARCH 2017
AT THE TOTARA ROOM, WAIORA HOUSE @ 5.15pm [Entry under main canopy]
LWAG INVITE YOU TO ATTEND OUR MONTHLY MEETING: "STATE OF OUR LAKES; TAUPO & ROTORUA"PROFESSOR DAVID HAMILTON WAIKATO UNIVERSITY CHAIR IN LAKES MANAGEMENT & RESTORATION
Professor Hamilton was guest speaker at Advocates first Annual meeting and has supervised The PhD by Simon Stewart study on the Food chain in Taupo which was initiated and financed by us. We have valued the expertise and approachability of David and wish him well for the future.
Waikato Regional Council work on the Tongariro River as stated in the Annual Work Plan (see Library Key documents Tongariro River Plan of Work 2016-17 on our website www.tongariroriver.org.nz) has stalled. To the credit of WRC they have held public meetings each year to discuss the work plan.
Turangitukua has requested a new process for consultation in relation to the annual works programme for the Tongariro River. This is an opportunity to have improved iwi contact and wider more extensive feedback from landowners in the lower Tongariro. It has also given us a platform to progress our consultation in relation to the potential avulsion through Te Awa o Taringa (Deep Creek)
A concern of ours is Lake level. Kuratau Omori residents took a petition to WRC Taupo Zone Committee of which I am a member with regard to the foreshore erosion. A temporary fix that will last approximately 3 years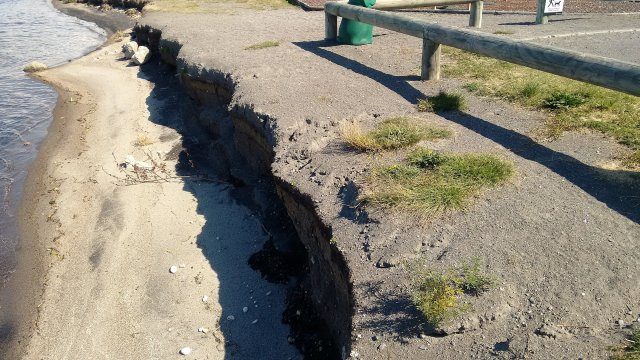 will be actioned. This will see material taken from the Poutu canal transported to the Kuratau beach as happened 5 years ago. It is not a lasting effect as the material is light weight.
I am pleased to add an article by John Toogood
As you know, we recently applied for and received a small grant of $5000 from the DOC Community Fund for wilding pine and willow control on the river flats upstream from around the Hydro Pool to the Blue Pool area. Those of you who have been fishing the river in the last couple of years will be aware that the spread has become quite alarming, with young pines popping up everywhere on the gravels and willows now starting to encroach on the river's edge, restricting fishing access. The pines will cause problems in high flood as they're sitting in pretty loose bedding, and the willows have the ability to influence the course of the river.
Together with some of our own funds, the grant was to be used for a starter project to give some costing background for further funding, and it was to be carried out with the permission of local Iwi and whanau as the river bed owners, in conjunction with the Waikato Regional Council as river managers, our having brought the issue to its attention. As it has turned out, the good news now is that the Council is going to take full responsibility for liaising with the owners and carrying out the work as part of its river management programme. Our funds can now be diverted to our continuing river environment work in conjunction with DOC.
It's worth mentioning that we have a very good working relationship with WRC through Todd Baldwin who is the River Works Supervisor for the Lake Taupo Area and beyond. He has been most receptive to our issues and concerns.
———-
On another note, we are still keen to speak to any of you, particularly locally based members, who would like to help us with committee work. Please don't hesitate to contact me if you are interested.
Regulation changes
Ian Rodger, President of Auckland and AFTR member sent the following which is copied here.
Many of you will be aware of the Proposed Changes to the Taupo Fishery Regulations that have been widely circulated and YOU will be aware of the opportunity of being able to comment. This opportunity has come about because of the fact, that the DOC Fishery managers now have the opportunity to amend the rules and regulations via the 'Angler Notices' system as has applied to Fish and Game Regions for many years. (A much, much quicker process than has been the case in the past – refer the Fisheries Review below.) Have you made a submission?
The 'Proposed Changes cover key issues such as;
– Reducing the minimum trout length from 400mm to 350mm
– Increasing the daily bag limit from 3 trout to 6
– Amend the definition of 'fly-fishing – what is YOUR interpretation?
– Add guidance on leader length and fly weight – comment?
– And more…
All contentious and important matters of interest to us all I am sure, on what is one of New Zealand's greatest trout fisheries.
To complete the online survey you can go directly to the link: www.surveymonkey.com/r/taupoangler it is very quick and used friendly. Why not do it NOW! (Closes 12 March 2017)
You should have received an email with the survey if you gave your email details when purchasing your Taupo Fishery license on line.
May I suggest that you may find the following website links of interest regarding the 'Taupo Fishery':
1) The Proposed changes to the Taupo Fishery Rules and Regulations – March 2017
http://www.doc.govt.nz/get-involved/have-your-say/all-consultations/2017/proposed-changes-to-the-taupo-trout-fishery-rules-and-regulations/
2) The Taupo Fisheries Review that many of us forwarded submissions on in 2013
http://www.doc.govt.nz/Documents/getting-involved/consultations/current-consultations/Tongariro%20Taupo/taupo-sports-fishery-review-may-2013.pdf
3) The Taupo Fishery Regulations 2004 – the 'bible' of many years standing.
http://www.nzfishing.com/Regulations/TaupoFisheryRegulations2004.pdf
4) TFAC – The Taupo Fishery Advisory Committee
http://www.doc.govt.nz/about-us/statutory-and-advisory-bodies/taupo-fishery-advisory-committee/
Taupo Fishery Advisory Committee: Statutory bodies
Eric Wilson
Secretary