The last writing from me was on the 15th November 2016. My silence since then is not because of inactivity but rather because of technical problems.
The committee held a special meeting in mid January to consider our future. In considering the future it is important to consider our origins and then our achievements.
The Advocates for the Tongariro River was formed in October 2002. Dr Mark Cosgrove, first president of the Advocates for the Tongariro River, wrote in the Annual Report of 2002-3 for the Annual Meeting held 20th April 2003:
Formation of the Advocates for the Tongariro River
"The Advocates arose from recent political events; first, the imposition of a new residential rate (Project Watershed) by Environment Waikato caused many people to ask if that Regional Council had developed plans for Tongariro River protection to go with its new taxes. Property owners formed The Tongariro River Action Group (TRAG) to deal with their worries about the security of their properties as a result of erratic river management especially near the town. Second, the presentation of a petition to Parliament by Virginia Church and 600 others, in 2000, deploring the state of the Tongariro River, led to an invitation to deliver a formal submission to the Parliamentary Select Committee for Local Government and the Environment. There emerged a group of people with strong views about the river and with the capabilities needed to mount a case for better management of the Tongariro River. Rather than this case being mounted in an ad hoc way every time a major challenge occurred or a hydro resource consent application brought the river's management to the public's attention, it was decided to set up a permanent group, and so the Advocates came into being. Public meetings formed a steering committee, a constitution was developed and this Incorporated Society was launched just six months ago. The wider debate: While some might think that The Advocates has come into existence 40 years too late to do much for the Tongariro, and now with hydro resource consents for the next 35 years all but signed and sealed, members could be excused if they asked 'Realistically, what can be done at this late stage?' But the issue of energy policy and infrastructure is never really far from the public mind; the recent predictions of depleted gas fields, low storage in the major hydro lakes, a fragile cable link between the main Islands and the spectre of the Kyoto protocol responsibilities is propitious and our group is well-placed to take on an advocacy role which looks at twenty-first century problems through twenty-first century thinking, eschewing nineteenth century ideology whereby humans' needs were met by environmental pillage. Overview of the months since the Advocates' establishment, the Resource Management Act is clear; citizens are by right able to contribute to decisions which impinge on the use of all natural resources and are expected to do so. The Advocates has prepared itself for this role through a campaign involving discussions with, amongst others, the Department of Conservation, Tongariro Taupo Conservation Advisory Board, Environment Waikato, Taupo Fishery Advisory Committee, Fish and Game New Zealand, the Federation of Freshwater Anglers, Genesis, Lake and Waterways Action Group, Ngati Tuwharetoa Trust Board, Turangitukua, the Ombudsman's Office, the Parliamentary Commissioner for the Environment, The Mighty River Power Resource Application for Lake Taupo, the Taupo District Council, other Advocacy Groups and Angling Clubs. Throughout this information gathering stage we have been impressed by the goodwill shown us on the one hand, but often bemused by the primacy of entrenched thought and practices. 5 Work-in-progress was summarised in the first edition of The Advocate, which you all received a few weeks back. That list of 10 points is illustrated throughout this Report and need not be reproduced here. We will judge much of the success of the second year of endeavour on the progress made in establishing a formal, representative Tongariro River Management Forum. Such a group is essential to ensuring that there is a shared set of guiding principles and co-ordinated action amongst those charged with managing the Tongariro River and its environment. Already the signs are that this will come to pass, for at a meeting with Environment Waikato on 28 March 2003 we were invited to put forward our ideas on a working party to be charged with managing the Tongariro River. The State Owned Enterprise Genesis had previously offered its support in this venture. Furthermore, at that meeting we were presented with a plan (for which Environment Waikato is seeking consents) which will go a long way in correcting the neglect of the river over the past 40 years. That these plans are completely in line with our ideas presented in the Church Submission (Appendix 3 of this Report) and in earlier riverbank meetings with Environment Waikato is a particular achievement for this fledgling Advocates group."
His report concluded:
"We wish to influence the debates on this issue and in doing so help to bring about a reappraisal of this river, once the jewel in the crown of angling rivers internationally.
Mark Cosgrove
President, 2002-3″
The Advocates for the Tongariro River is now in its 15th year and we have participated and influenced actions in that time. Key achievements have been:
Wilding Pines and Willows are now part of the list of pest plants in the Waikato Regional Council documents.
Planting of indigenous species
Developing the Tongariro River Trail
Participating in the Lake Level consent process and providing to Mighty River Power an alternative operating regime to achieve the same results for Mighty River Power.
Initiating a PhD Study to provide a better understanding of the food chain so that management has a tool to act on
A proactive Didymo campaign
Carp Farm community awareness. The application for the carp farm was withdrawn.
Developed the Tongariro River Integrated Catchment Management Plan which has been accepted by Waikato Regional Council Taupo zone committee and Council's Integrated Catchment Committee.
Established credibility with stakeholders
Iwi and stakeholders support the development of an ICMP but action to date has been slow.
The Minister of Corrections, Louise Upston, met with AFTR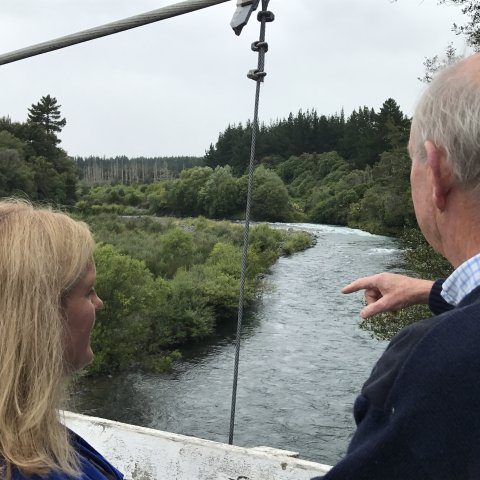 representatives and with Mt Tauhara Trust representatives and on behalf of Government and the Minister of Conservation thanked both for their work in dealing with Wilding Pines, acknowledging the problem they represent throughout NZ. DOC gave support of $5000 to AFTR and $75000 to Mt Tauhara Trust for their work with Wilding Pines.
Didymo Dave's report at www.fishingoutdoors.org.nz p16 is worth a read.
Do the Advocates For the Tongariro River have a future? We certainly do.
We will remain a critical friend of stakeholders and iwi,
We will continue to build a knowledge base on the river and its catchment.
We will continue to participate in influencing decisions relating to the River and its catchment.
Our concerns are regularly reported to members through these blogs.
Membership
A strong membership base gives us greater strength. We have a loyal base membership but it is important that we grow in numbers. Subscription fees remain as for last year. $25 an individual, $30 a family living at the same address and $60 for clubs and other groups. A subscription form will be posted to members before the end of this month. Follow up will be by email.
We would be pleased to receive nominations for the committee. It is the intention to hold only 4 committee meetings a year with 1 of those meetings to follow the Annual meeting. The Annual Meeting date still to be set will probably be held in May.
DOC Fisheries Survey
From the 2013 meetings to gather information on what anglers want management to do (see the 2013 report on our website www.tongariroriver.org.nz Library, Key Documents to review the findings and recommendations set from those meetings. On Line licensing has been achieved. Notifications of regulation changes are well developed which will enable more efficient change to the regulations and now DOC want the opinion from license holders on matters such as size and bag limits, and new license categories. Expect an email from DOC shortly.
Fishing
Good fish are being caught on the lake. I have seen fish of up to 8 lbs, excellent condition and colour.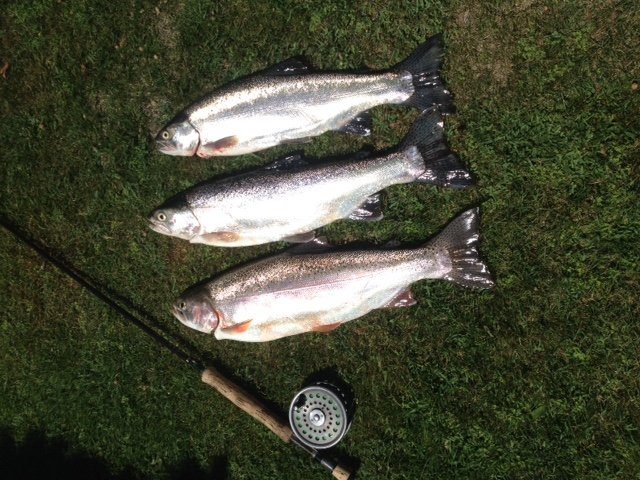 It is the pattern that the early season fish are bigger than mid and late season. Good sized brown trout are being caught. The cicada hatch is much in evidence. There are a number of anglers in the river at this time.
Eric Wilson
Secretary