Winter gave way to summer this week. The weather has been glorious since Monday. I see that tomorrow we are to expect a heavy morning shower with pleasant temperatures which will take us through to Monday.
It is the annual Round Lake Taupo bike ride this weekend which attracts 2000 riders plus their support crews. It rather restricts access to fishing waters with riders on the road in numbers for most of Saturday.
I fished the Delta with Richard Kemp on Tuesday morning and we caught 3 trout. My judgement is erring as I thought they would exceed 3 lb (1.361 kg.) Weighed, the best was 2.75 lbs (1.25kgs).
The smallest fish had just fed on green beetles as there was no sign of decay. The other two fish had empty stomachs.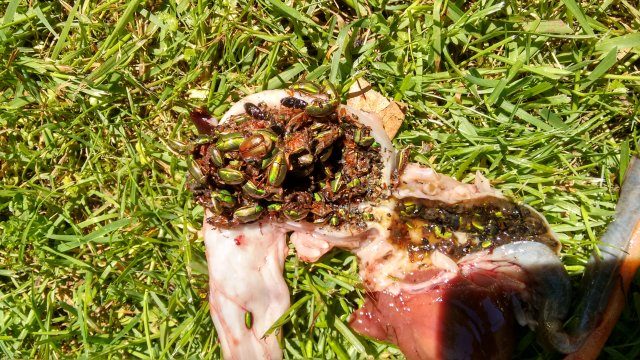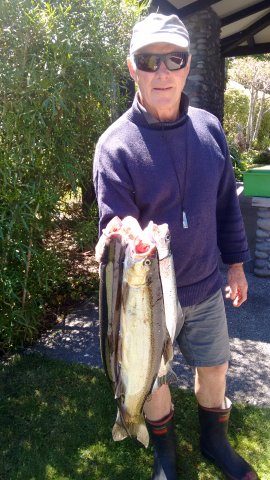 Graeme Hamilton was leaving as we started, with his 3 fish having caught 5 fish in all. They looked impressive and Graeme estimated his best of the day at 4lbs (1.81 kg). His best of the season was 8lbs (3.63 kg)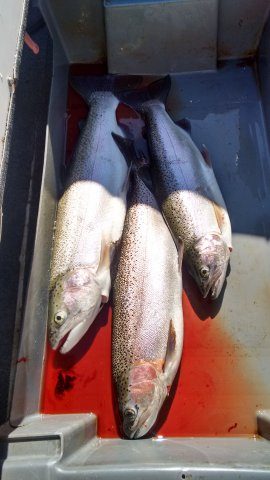 One other boat had caught and kept two fish.
The Genesis Community Meeting
Today, Virginia Church and I attended the annual Genesis community meeting which is Genesis reporting its activities for the year. It is informative with a wide body of groups represented.
There have been a number of staff changes  which has meant that we have to establish new relationships.
Mark Pellowes is the new Tokaanu Manager. Bonny Lawrence has become Genesis Environment manager around NZ. Jared Bowler has gone to Mercury Energy. Tracey Hickman formerly manager at Tokaanu had gone to a senior position in Genesis a couple of years ago. They were all good people to deal with, we wish them well with their promotions and we now have to get to know the new people at the station.
Mark Pellowes in his talk spoke of his frustration with the vandalism and reckless danger occuring at the eel screen between Lakes Otamangakau and Rotoaira. At lake Otamangakau the weed net to control weed had been deliberately cut. Only someone with a boat could have committed this act of vandalism and the boat users are either anglers or duck shooters or both. The net was there for the benefit of these users of the lake. His frustration was also with Freedom Campers at the Tokaanu wharf area with confrontation between campers and boaties, overflowing toilets and litter. Genesis owns the area and will put up notices banning freedom camping at that site. Freedom camping around Lake Otamangakau was also an issue.
Michel Dedual outlined the trout fishing season. He compared managing the fishery with managing a farm. The amount of food dictates the amount of stock. But in the fishery there is need for a better understanding of the food change to enable predictions of quantity of food and therefor fishing limits which are now more easily made due to the change in notification process.
Another point he made was that large numbers of fish spawning above the Waipa trap produced no more fingerlings than a smaller run through the trap. I take that to mean that the number of trout in the Lake is relatively constant so that the food supply is the factor that influences size and quality of fish. Mention was made of the PhD research study being made by Simon Stewart which will be a valuable tool for determining the future food supply for trout. The challenge was to predict, anticipate and communicate
But the biggest issue highlighted by Michel  is the challenge to fishing by those who regard it as a blood sport. Michel had attended a Trout congress in Montana where this was a key discussion topic. The challenge to the sport is to  carefully develop an argument for it to remain. Immediately its value to the NZ economy comes to mind but more argument needs to be thought through.
Michel reported that the trend was for the bigger fish to run first and the smaller fish later.
The new educator at the Trout Centre, Krysia Nowak spoke with enthusiasm of the work she was doing and of the numbers of children passing through the centre. This is encouraging as for many children this is their first introduction to trout,trout fishing and the management of the fishery needs anglers.
Finally John and Len Morgan spoke about their efforts to save the tuna (eel) fishery in the Lake Otmangakau area where tuna come up the Wanganui river and get trapped into Lake Otamangakau. These fish are under threat and to date there hs been little effort to sustain their numbers.
I found the meeting informative and valuable.
One major problem is that we need more committee members. We have provision for a committee of 14. If you are able to put yourself forward for the committee you are most welcome to attend our meeting to meet our committee and get an insight into our activity. This coming Monday our committee will meet and if interested you would be most welcome to attend. You can email me through our website and I will send you information re the meeting.
Finally, John Toogood has sent out subscription forms for those still to pay their 2016 subs. On John's behalf I make a plea for your support as our membership is important to us. We are known for our willingness to not just talk about issues but to  take an active role in talking to stakeholders of the problems we are aware of and working to solve them. For this reason alone membership is important. Identify the problems. seeking a solution , having the credibility through our numbers to emphasise a weight for our stance. All members are important to us.
On behalf of the Advocates committee I wish you all a Merry Christmas and a Happy New Year.
Eric Wilson
Secretary.