As anglers we all hanker to catch the big one. For most of us, we are just happy to catch a fish of legal size. The dream of the Tongariro river are of fish exceding 20lbs  which were apparently reasonably common at some time in the past. After 40 years of fishing the Tongariro River I still have on my bucket list a rainbow trout in excess of 10lbs from this river. They are caught but are a rarity. The probability of a large fish in this river is that it will be a brown trout.
Elsewhere large rainbow trout exist. In this Fishery Lake Otamangkau is  the notable trophy fish lake and here I have caught a rainb9w trout of 13lbs.
My friend Bryan Brownlie caught a 17lb Rainbow trout from the Hydro canal leading into Lake Benmore.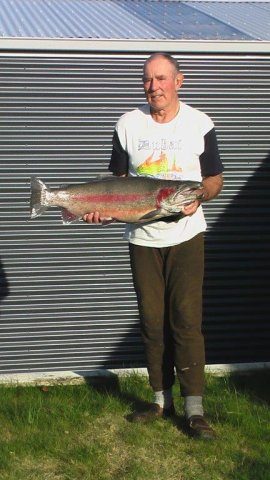 I saw his fish which we took to Bruce Abrahams, Turangi taxidermist with a nationwide repuation. The process will take time but we look forward to Bryan enjoying telling the story of catching this fish to any who want to know the story.
Bruce stung me into writing this blog as he asked why I have been so quiet of late. The truth is that I have been in a holding pattern awaiting results. These include the PhD study which Simon Stewart hopes to have finished by January 2017. There has been a hold up with our latest planting project with Project Tongariro which will delay that project until next year. Â In oate June we were pleased to be approached by Andrew Gawith,
Manager, NZ River Awards
A NZ Rivers Trust and Morgan Foundation project
He advised that the Advocates for The Tongariro River had been nominated  for this award and that the finalists woud be revealed in early November. We do not make an application for recognition for this Award and are very pleased that our efforts have been acknowledged in this way. The finalists for 2016 are found at
http://www.lawa.org.nz/
We were not finalists but our work will be presented at the Awards ceremony.
The fourth excuse is that I have not been celebrating fishing success to date. The have been a number of false starts to a good run of fish.
I remarked to Graeme Hamilton just prior to the local body elections that the fishing had not been great. Graeme, lake fishing enthusiast remarked that the year on the lake had been great both in quantity of fish caught and size of fish though he did acknowledge his largest fish at 6lbs. Still, that is very good as my observation is that fish in the river are small, just meeting the 40cm mark, but are of nice shape and colour. Greme also advised that fishing at the Delta had not been geat indicating that fish were not schooling to run up the river.
We are 1 day away from November and the fish are running. This is so different to past years when the run of fish was over in August. In conversation with Frank Schlosser he remarked taht the run of salmon from the sea into the rivers in the South Island is at least 1 month later than in the past. We have had significant rain last week which resulted in a good run of fish in the days following.
I think global warming is a reality but I wonder why I still have my fire going at night as the norm in the past would have been for a home fire to Labour weekend and then a fire would not be necessary.
Finally I report that we are making strong efforts to meet with Ngatit Turangitukua to develop a close working relationship.
Eric Wilson
Secretary