Floods
As I start my third attempt for this blog the river has come down from its peak of 615 cm/3 and now is at 290cm/3. 615 cm/3 is a 1 in 5 year flood and is the largest we have had for some time (possibly 5 years). We should all be indebted to the Hydrology division of Genesis energy at Tokaanu for their river flow graph is of great value as is the rainfall graph at Turangi that lets all know the condition of the river. The rain on the 18th August caused the river to peak quickly that night and is retreating slowly.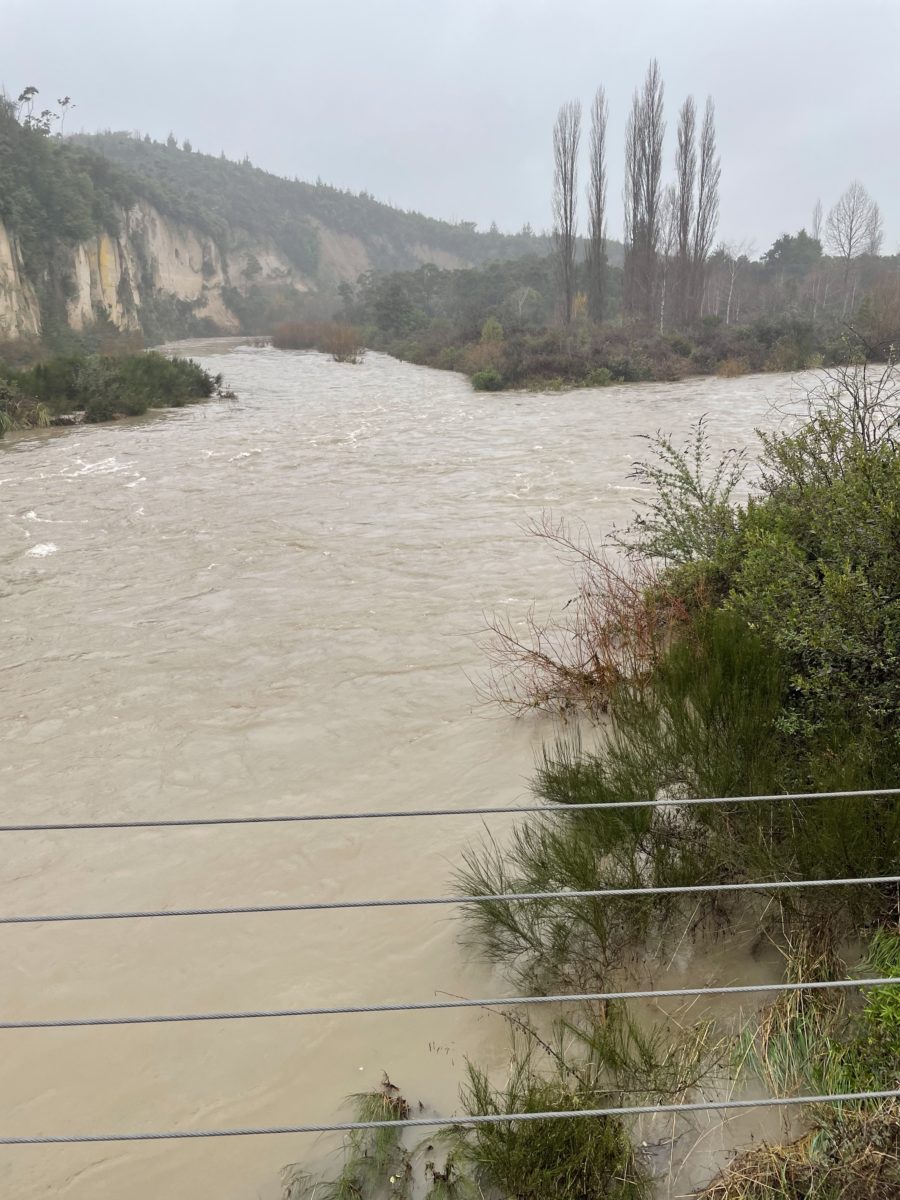 615 cm/3 flood 19th Augustb 2022 Will the flow choose the left where it was in 1993
Light rain is still falling. We havee had 87.4mm to date in this rain event. The key is to check rainfall in the rest of the catchment but all show falling levels.
From the previous week the river flow graph sowed 3 spikes and troughs when compared with the rainfall graphs did not offer an explanation. Gary Brown phoned Genesis to ask the reason and the delay in response he asked me to follow up. I had a friendly chat with Gareth Grey at Genesis and emailed our question:
On 39 july graph showed a brief major decline in river flow. What was the reason for this?
On August 1 the trend showed reducing flow but in a brief period there were 3 10 m3/s increases followed by same sort of falls. Q. What was happening?
Eric
We received an expplanation that we have accepted and refutes some of the comments being made. We have questioned anomalies in the flow data and have received satisfactory answers.
There was a lot of debris from the late July floods. The question now is what will be the problems after this flood and what changes will have occured in the river bed? Another couple of days and these issues will be revealed.
The next fine day is scheduled for Tuesday.
Fishing
The fishing has been great. Though I tried to catch a fish a week ago and didn't succeed or did my two companions that day. But the fish caught have been great.
Budge Hintz in Trout at Taupo advises that after a flood the river is fishable when you can stand in the river knee deep and see your boots. I found this to be true in the Tongariro as it is now in a flow of just over 30 cm/3.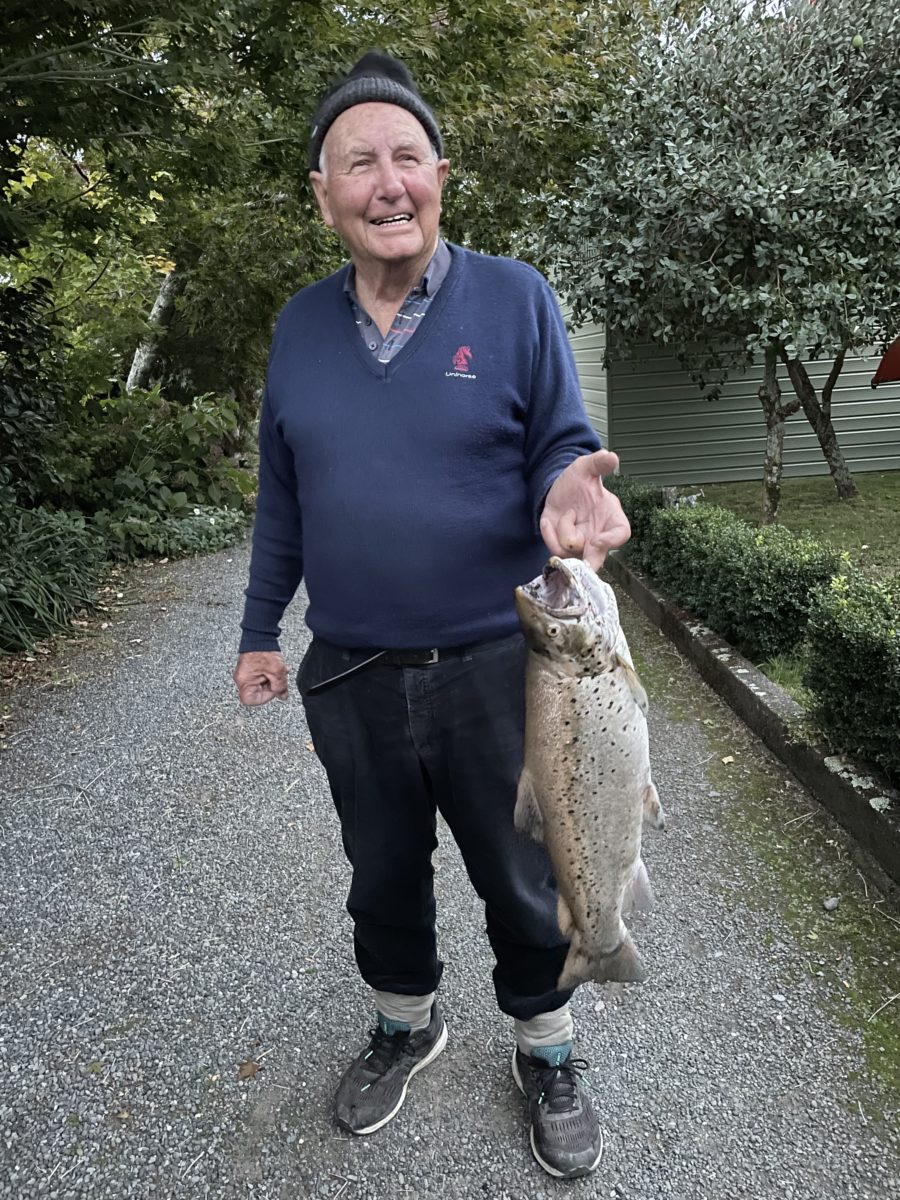 Richard Kemp 6lb Mike Forret 4.5lb Gary Brown 7lb
This catchment is different to most others in NZ.
There is a large population of fish and a finite food supply. Similar to a farm. Bigger animals with a plentiful food source. Heavy stock numbers, a finite food supply smaller animals to almost starving. The excellent fish at this time is due to there being a good balance between fish numbers and food supply. If we return all the fish we catch today then we increase numbers for the future and smaller fish for the future.
Trout Plaques
Prior to the flood Carl Bergstrom sent me this photo from the Auckland Domain and we wonder its origin. It reminded me of the plaque in Dunedin beside the Leith which I photographed in 1992 but went on line to find a better photo which I have copied here.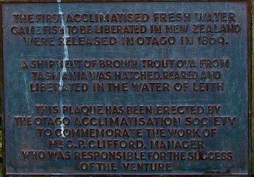 Dunedin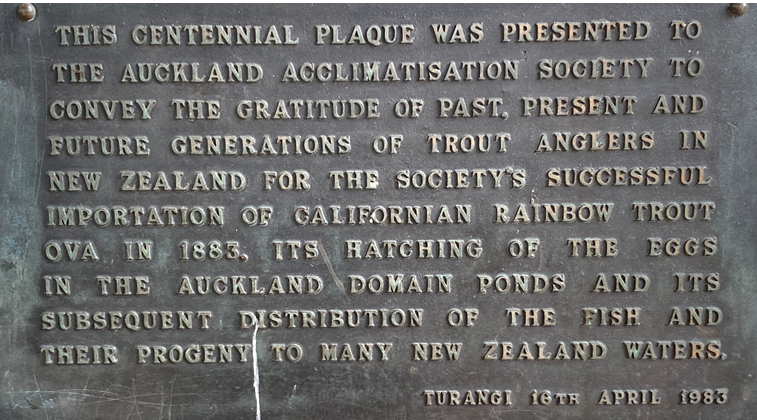 Aucklnd Domain
Curiosity asks what was the origin of the plaque? What was the significance of Turangi?
I checked R.M. (Bob) McDowall's book GAMEKEEPERS FOR THE NATION. (an account of the activity of the Acclimitisation socities) and on page 259 is photo of the plaque but I can not read it. Thus the benefit of Carl's photo. It has been an interesting read about the introduction of Brown Chapter 16 and Rainbow Trout Chapter 17 introductions to NZ.
Membership and Subscriptions
Our strength is our membership. Getting new members and retaining our members is important.
John Toogood, Treasurer sent the following for inclusion in this blog.
And just a friendly reminder from your Treasurer to please renew your subs for this year if you haven't already done so. Go to Membership on the website – https://tongariroriver.org.nz/join-the-advocates/
Eric Wilson
Secretary