The week has been dominated by a High Pressure system which has brought -5 temperatures followed by beautiful days.
Blessing to start work on the Tongariro River Trail
This occurred at the Red Hut car park 8.00 am on Friday morning, We thank Jeffrey Bennett, Kaumatua of Ngati Turangitukua for the ceremony on a very cold, light misty drizzle morning.
The trail has now been marked. Work will see the trail built within the next couple of months.
The trail uses the Roads Board land and not the private land. One block of private land is from the Red Hut bridge to the National Trout Centre. A second block of private land is North from the National Trout Centre to the Paurini Reserve. For these reasons we have an obligation to use the Roads Board land.
Fishing Report
I had a couple of weeks in Wanaka and missed the best of the season to date when Genesis closed the flow of water to the Poutu Canal. I am told the fishing was excellent. River flows are again low and the fishing is hard but some good fish are being caught. Yesterday I tried the Cattle Rustlers Pool which is full of fish. I managed to catch one Jack but there was no one else fishing at the time I did. I met one angler as I walked to the pool who was frustrated at seeing the fish and not being able to tempt them. I met another on the Birches bridge who commented on the number of fish in Cattle Rustlers and how stubbornly resistant they had been to both fly and nymph.
It was pleasant fishing with the sun out but very cold when the sun disappeared from the pool. Ice on the track remained all day and the photo taken at 4.00pm shows ice. It;s quiet. There are few anglers about. There are some good fish to be caught but while they can be seen they are not lining up to be caught.
 Walking Access Commission meeting at National Park
I attended the Walking Access Commission meeting last Monday. The value of the meeting is in meeting the members of the Commission and in the concerns expressed by landowners. Much discussion involved unformed roads which are public roads.
Photo upstream of Highway Bridge 1951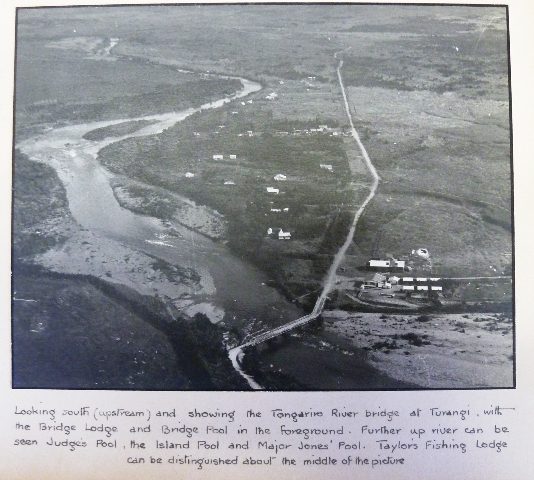 Joyce Galbraith took great photos of the Tongariro River on visits from Melbourne to Turangi between 1946 and 1952. Three of her albums are in the Taupo Museum.
The caption she wrote under this photo reads:
"Looking south (upstream) and showing the Tongariro River bridge at Turangi with the Bridge Lodge and Bridge Pool in the Foreground. Further up river can be seen the Judge's Pool the Island Pool and Major Jones" Pool. Taylor's Fishing Lodge can be distinguished about the middle of the picture."
Eric Wilson
Secretary/Treasurer