We were saddened to learn of the death of RM (Bob) McDowall earlier this year. Bob was an eminent freshwater fish scientist. We had the pleasure of having Bob speak to us, Labour weekend 2008, about the fishery we deemed a problem with fish numbers, size and quality. Bob had great knowledge of freshwater fish but it had been some years since he last fished in the Taupo fishery. He left me in no doubt that there were sufficient eggs being laid and that the problem was therefore the food supply in the lake. He made a significant contribution to the study of freshwater fish and he will be missed,
In issue 15 of our Newsletter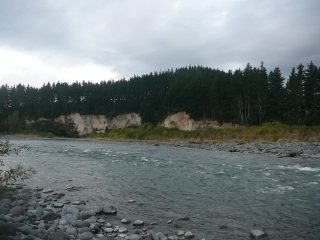 (see archives-Newsletters) we advised that the pine plantation on the bluff, true right going south from State Highway 1 bridge, was to be felled. Work started this week and the operation is expected to take 2 weeks with the track being closed for a month.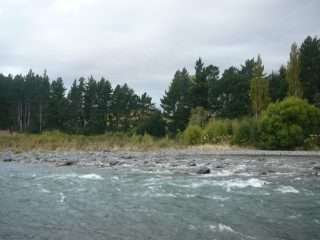 The second photo shows the starting point of the work. When the plantation has been felled The Department of Conservation will re-route the track so that there is a lesser gradient and will be further back from the cliff face making it a safer track. The area is to be planted with  indigenous vegetation.
Lake fishing over summer has for me been good with some good sized fish amongst the juveniles but more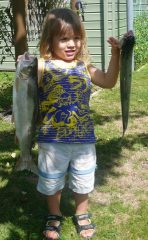 importantly the fish have had quantities of smelt and the flesh has been bright orange. This weekends rain should signal the start of  the early runs. I heard (from a reputable source) of a 12lb rainbow caught last week. This little fellow came fishing with me, a season's license in his pocket, and with much assistance caught these fish. A very keen angler now.
The gravel extraction consent looks unlikely until late this year. It looks as if it will have to go before a commissioner.
The high lake level is again causing concern from erosion and impeding the river from carrying its bedload into the lake, instead depositing the sediments in and before the delta.
I read through all our newsletters and found them an excellent record of activity. I recommend that you re read newsletters on our archives site.
Our Annual General Meeting is changed from Easter  Sunday afternoon to Saturday morning. The venue will again be the Bridge Lodge, the time 10.00 am.  We will not have a guest speaker but Mark Cosgrove will highlight issues in the lower river. The meeting will be followed with morning tea. We look forward to seeing you.
Eric Wilson
Secretary/Treasurer