The Great Fishing Season continues.
All that I talk with on the river tell me of the good fishing experience they are having this year. Those who have fished in the Taupo Fishery remember the lean period. Spent fish are part of the catch now particularly in the shallow water close to the bank.
Death of Harry Hamilton
It was by chance that I learned of the death of Harry Hamilton, DOC Fisheries ranger.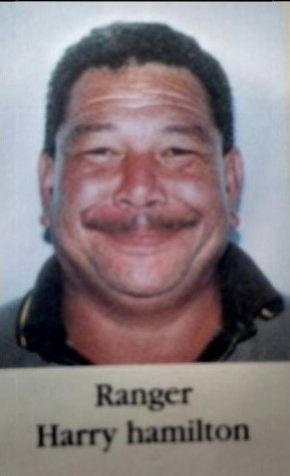 Harry was a long term member of the Fishery team. Harry enjoyed his work as a ranger and was at work trapping fish when he suffered a fatal heart attack. He was Ngati Tuwharetoa, schooled in Turangi and worked most of his life in Turangi initially with the Ministry of Works on the power scheme before going to the Department of Conservation. He understood the work of the Fishery team well. I found Harry to be friendly, amiable, and a likeable long term member of the fishery team. It was a pleasure to know Harry. He will be missed.
Hard copy vs internet copy and Target Taupo.
I confess that I supported the change from hard copy to electronic copy for Target Taupo. In reading about Harry's involvement with DOC fishery I found the DOC books valuable. It was a money saving cost that saw the printed information cease and an on line version take its place. It is too easy to skim through the online version and not come back to it. The hard copy can be kept as a valuable resource. And there is the rub. How many kept the hard copy.
Parliamentary Commissioner For the Environment, Dr Jane Wright, retires.
I developed respect for the work Of Dr Jan Wright in her role as Parliamentary Commissioner for the Environment (PCE).
The commissioner is an officer of Parliament meaning they report to no Minister and have an independent watchdog role. This weeks Listener October 21-27 covers well the life of Dr Jan Wright.
I thought she handled the task well and I have respect for the conclusions that she has made about the NZ environment.
She has had in her 10 years as PCE many contentious issues to consider. Among these are Wilding Pines, 1080, Water Quality, bio fuel, From the Listener article "Wright steps down knowing she has provided the nation with a large body of lucid analysis on the biggest environmental problems of our time."
The new PCE will be Simon Upton a National Party MP from 1981 to 2001. When he retired from Parliament he went to Paris as head of the OECD Environment Directorate.His appointment was backed by all political parties in the last government with the exception of NZ First.
Fish and Game CEO retires and new CEO appointed
Bryce was a guest speaker when we held seminars annually and he was gracious in dealing with the poor turn out that we mustered. He was a member of the Walking Access Committee under Sir John Acland that set up the Walking Access Commission. He was approachable, thoughtful and stated his position clearly making Fish and Game a respected Environmental NZ group. I wish him well in retirement.
His replacement as CEO is Martin Taylor.
PRESS RELEASE: Fish & Game New Zealand
The long-serving head of Fish & Game New Zealand Bryce Johnson is retiring.

Mr Johnson has held the position since Fish & Game was established in 1991. He was previously the first national director of Fish & Game's predecessor, the Acclimatisation Societies, from 1980.
The chair of Fish & Game New Zealand, Lindsay Lyons, says Bryce Johnson's decision to retire is a significant landmark for the organisation.
"Bryce is the face of Fish & Game New Zealand and has been a hugely effective leader and advocate.
"He has been in his role since Fish & Game's inception and his hard work has helped shape it into a widely respected and effective environmental organisation."
Lindsay Lyons says Mr Johnson has championed both the environment and the public's rights.
"Bryce has been one of the foremost defenders of New Zealand's environment. He is passionate about protecting our waterways, wildlife habitat and public access to our wild places – the environment and New Zealanders have benefited hugely from his efforts," Mr Lyons says.
"It is thanks to him that water quality is now such a public issue."
Bryce Johnson says the decision to retire hasn't been easy.
"I have enjoyed my role as chief executive immensely. Fish & Game has not been afraid of tackling the big issues and I am grateful for the support the New Zealand Council has given me," Mr Johnson says.
During Bryce Johnson's time at the helm, Fish & Game has come to be regarded as one of New Zealand's leading environment organisations, responsible for securing a dozen of the country's 15 Water Conservation Orders (which provide the equivalent of national park status).
The organisation also spearheaded concern about the impact dairying was having on freshwater quality, sparking the water pollution debate that's now becoming a key political issue in the lead up to the election.
Bryce Johnson says it is an issue which won't go away.
"I think politicians are finally starting to realise that the public is fed up with what is happening to our waterways.
"Every New Zealander deserves to have freshwater they can swim in, fish in and gather food from. I hope I can retire with politicians committed to that goal," Mr Johnson says.
Fish & Game New Zealand will begin advertising for Mr Johnson's replacement shortly.
All quiet on the Tongariro
We are in a waiting phase.
Waiting to receive Simon Stewarts PhD thesis
Waiting for the next phase in planting around the Hydro Pool
Waiting for clarification on access to the Blue Pool.
Waiting to find out who will replace Todd Baldwin at Waikato Regional Council.
But not all quiet in the catchment fringe.
A Rotorua developer is interested in the purchase of Parklands Motel (maybe has purchased) opposite the Z service station at the entrance to the town. The developer, Holmes Group, has a proposal to keep the motel, put an 8 pump Petrol Station (with a Wild Bean Cafe) on site and a Quick food restaurant. As property owners or regular visitors you may be interested in this development. Within the community there is a division of feeling about this. The proposal was reported in the NZ Herald and in the Taupo Times. Opposition have a petition on line at "This is Turangi" where the case for opposition is stated and a Give a Little page to fund their objection. Two approvals will be required. The first is from New Zealand Transport Agency for access off SH1. The second from Taupo District Council to change the town plan for this site from residential/environmental to commercial.
Eric Wilson
Secretary